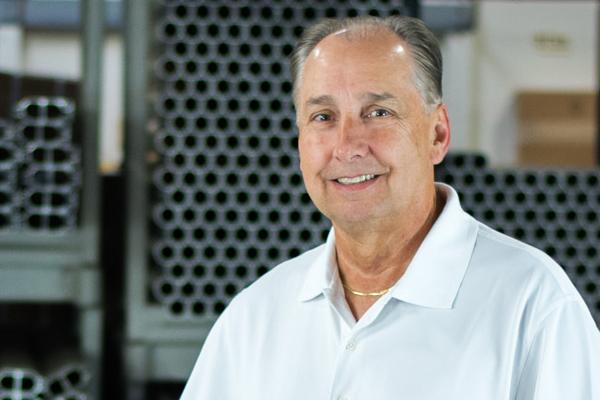 David Bradley
General Manager- Manufacturing
David Bradley began his illustrious career in the tent industry at Academy Tent in 1987 as head of the tent and awning manufacturing division. "I came to California to run a 10K race with my brother" Bradley recounted. "I stayed a few days to look at the job market and stumbled upon Academy Tent, and took a new job in just a few days. Within a month my wife and I sold our home in Illinois, loaded up the kids and the car, and moved to southern California to become part of the tent industry."
A northern Illinois native, Bradley started his career in production and inventory control for Barber Greene, a heavy equipment manufacturer, now a division of Caterpillar Tractor. "I married a local girl, Ann, my wife of almost forty years and started a family with two sons" states Bradley, an Aurora University graduate with a BA in Business Administration.
Dave joined the Aztec Team in 2004 to oversee manufacturing operations. One of his initial challenges was to blend the Aztec and Academy manufacturing staff and processes, and get moved into a new 38,000 square foot facility. Within four years, Aztec outgrew that facility and found an additional 60,000 square feet of manufacturing space just down the street where all the fabric manufacturing, sales and support staff currently reside.
"Dave is always there when I have complicated questions, and he always has an answer for me." says Helen Melnyk, Senior Sales Representative, "I don't know what I would do if he wasn't there to run my crazy ideas by him. Aztec Tents would not be the company it is today without Dave's attention to details, and the high standards he places upon the Production Department. Dave is a great asset to the Aztec Family."
When Bradley is not at work, he spends time with friends and family, his Jindo dog, playing golf or at his mountain cabin in Big Bear Lake.
"It's always a thrill when a challenging tent project is successfully completed" says Bradley "Whether it's a new product or when we can help a customer make the 'impossible' job happen on time"
Send Dave a message: d.bradley@aztectent.com